The Sidebar in Bear keeps all your notes organized into two main sections: Notes and Tags. The Notes section contains a few built-in subdivisions with basic organization. The Tags section contains all the tags you've applied to notes in Bear.
Here's how they work.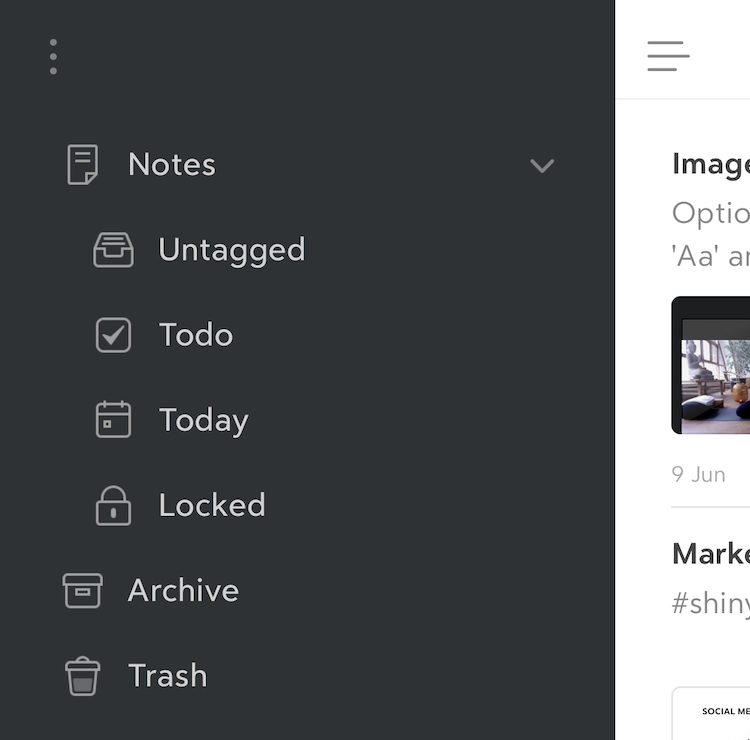 Notes Section
The Notes section contains our built-in subdivisions for your notes.
Untagged - All notes that you haven't tagged yet.
Todo - Notes that contain todos that still need to be completed.
Today - Notes you've created today.
Locked - Notes encrypted with Bear Pro
Archive - Any notes you've archived (Note: This section doesn't appear until you archive at least one note).
Trash - Notes you've deleted. This is one last chance to retrieve them before they are deleted forever.
Tags Section
As you create notes in Bear, you can add tags to them simply by prefixing words with a pound sign, like #travel or #work. You can also create multi-word tags by wrapping words with two pound signs, like #Star Wars# or #blog post ideas# or #shopping lists#.
The Tags section of the Sidebar in Bear collects tags as you create them. By default, tags are sorted alphabetically (you can change this behavior in Settings > General > Tags List Sorting).
Pin tags in the Sidebar
You can pin important or frequently used tags to the tip of the tag list in the Sidebar.
Mac: Right-click a tag in the Sidebar and choose Pin Tag
iOS: Long-press a tag in the Sidebar and choose Toggle Pin